About Karijini Tours
Who we are and what we do
Karijini Tours offer small group and private 4WD Camping Tours to the Pilbara & Karijini National Park. Our mission is to allow every traveller to have a unique Australian Outback experience, even if you do not have the vehicle, equipment or the time, experience & confidence to go out and explore on your own. We specialise in competitively priced private Karijini Tours for families and small groups of up to seven.
Karijini Tours is run by a dedicated small team wanting to share their passion for the Australian environments with others. To guarantee that you get exactly what you are looking for, all of our tour bookings are direct only. This has the added advantage that we do not need to pay any commissions to agents, and we pass these savings onto you! Karijini Tours is operated by Charter North 4WD Safaris.
Please scroll down to learn more about us.
Our Difference
We are a small low volume tour operator with 20 years of industry experience.
When you contact Karijini Tours, you speak directly to us, we run the complete business and all the tours ourselves.
Our product is very different from many other tour companies who operate large vehicles with large groups. We are one of only a small number of remaining operators who fit into a niche market offering superior product and customised expereinces to clients, rather than joining the greater masses.
Through our direct booking process, we ensure that you get exactly what you re looking for, and that you are perfectly prepared for your Karijini adventure with us.
Our expertise incorporates decades of experience designing and planning tour programs, taking into account timing, specific interests, varying degrees of fitness & a range of dietary requirements.
Our tours provide the highest level of destination experience and interpretation, along with the right level of activities to suit your group size and interests.
We allow for flexibility to adjust programs while on tour- for example changes of pace, timing & activities- that large companies with set programs and fixed camps are unable to. So if you realise on tour that you would like more or less of a particular component- no problem, we make it happen!
All our tours are designed, planned and delivered with the highest degree of customer service standards & duty of care. providing highest destination and product satisfaction.
highlights
Luxury 4WD Travel
Highly qualified & experienced guides
Fresh & healthy catering
Ideal for Families
Direct booking consultation
Tour customisation
Quality interpretation & duty of care
Remote communications & remote first aid qualification
Australian national tourism accreditation (ATAP)
Our Guides
At Karijini Tours, we know that your guide is one of the most important factors of your tour experience. We also know exactly what makes a great guide, and we do not settle for anything less. If you travel with Karijini Tours, you can be assured that you are in good hands!
Our guides:
Have years of experience leading groups in Northern Australia
Are highly qualified, knowledgeable & passionate about the destinations they guide you through
Are not "green" or "rookies"
Are experienced in leading groups from a wide range of backgrounds
Are personable, entertaining and full or energy
Love children and love having family groups on tour
Are extensively trained, but also flexible and resourceful
Are trained in first aid and remote emergency management
Have sound mechanical skills
... And know how to cook a great meal on the campfire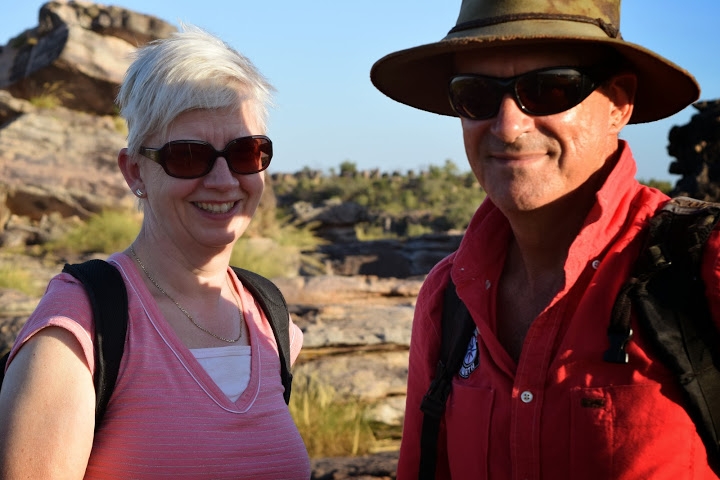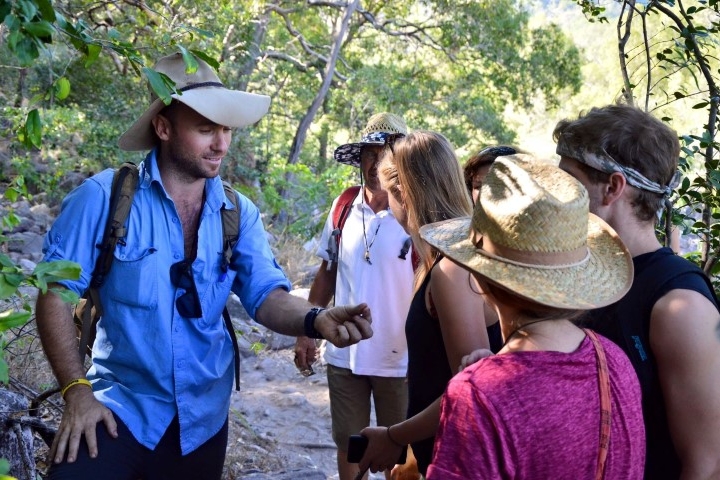 highlights
Professional accredited guides only
Travel in comfort knowing that you are in good hands
Knoweledgeble & informative
Personalble & approachable
Great with Children
Senior first aid & remote first aid certificates
Mechanical skills
As our tours are remote & logistically challenging operations, it is of utmost importance for us to provide comfortable and suitable tour vehicles & trailers, along with quality equipment designed to provide a great touring experience. Through years of experience, we know what works and what doesn't and we spare no expense to ensure everything we use is great quality and well maintained.
Vehicles
We only use tough late model 4WD vehicles with the best safety standards, and equipped with everything we need to ensure a safe journey. All our vehicles have upgraded suspension, bull bars, snorkels and roof racks. They have full air conditioning and air bags, and our guests frequently comment on how comfortable they are. Basically, they are the best available for what we do.
Trailers
Our tour trailers have been custom built for our specific needs, and are heavy duty for off road use. They carry everything we need while touring, so we are completely self-sufficient. We also have ample cool storage to carry our fresh food supplies, drinks and medication. Our latest addition is our camper trailer, available on our private comfortable camping tours.
camping equipment
We only use quality camping equipment designed in Australia, and selected to be practical and easy to use on tour. On our tent camping programs, we use easy to erect dome tents and extra large swags ("bed rolls") with thick high density foam mattresses. We also provide fresh sheets and pillows, so all you need to bring is a sleeping bag.
Safety
All of our vehicles are equipped with remote communications, remote first aid kits, fire extinguishers and tooling. All of our equipment is regularly maintained and serviced to ensure safety.
highlights
Late model luxury 4WD
Full air bag & air conditioning
Custom built tough tour trailers
Camper trailer option
Quality camping equipment
Remote communications
Top maintenance